12/14/2018 Chemical Footprint Project Blog Posts

The Chemical Footprint Project (CFP) Survey opened on January 2, 2019 and closes on March 31, 2019. Here are some new resources to help you fill out the Survey:
---


Updated Guidance Document & CoHC List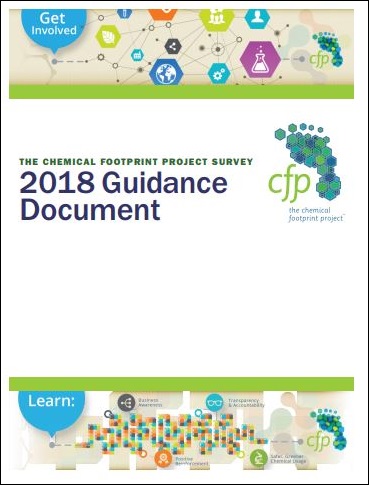 Use the Guidance Document to understand the online Chemical Footprint Project Survey questions and response options, and to learn examples of best practices that align with the response options.



Highlights from this year's Guidance Document:
increased number of examples

alignment of questions and response options with EPEAT criteria

updated reference list for Chemicals of High Concern (CoHC)
Read the Guidance Document here.
---


Free Webinar Series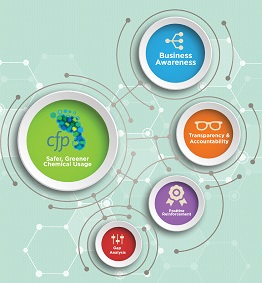 January 17th - February 7th



Learn how to operate beyond regulations, anticipate market trends, measure your progress, strengthen your engagement with your supply chain, and reduce business risks related to chemicals while demonstrating your leadership.



The Chemical Footprint Project Survey provides a standard metric for evaluating an organization's overall chemicals management policies, strategies and practices, filling a gap in the overall sustainability mosaic. The four webinars will cover each of the four pillars of the Survey: Management Strategies, Chemical Inventory, Footprint Measurement, and Public Disclosure and Verification. You can attend one, some, or all sessions. Register here.



January 17, 11:00 – 12:30 ET: Management Strategy


Learn best practices for developing and implementing a comprehensive chemicals management policy.


January 24, 11:00 – 12:30 ET: Chemical Inventory


Learn best practices for restricting chemicals and collecting information on chemical ingredients in products.


January 31, 11:00 – 12:30 ET: Footprint Measurement


Learn about setting chemical hazard reduction goals, calculating chemical footprints, and identifying safer alternatives.


February 7, 11:00 – 12:00 ET: Public Disclosure and Verification


Learn about the value of public disclosure of chemical ingredients in products and the CFP Verifier program.


This webinar series will be particularly valuable for manufacturers of formulated products and/or articles and consultancy firms supporting manufacturers in creating leading chemical management programs.



If you have any questions regarding the Chemical Footprint Project, please contact Cheri Peele.